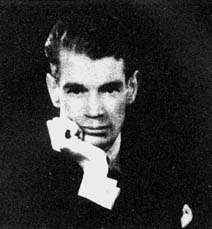 Halloween just wouldn't be the same without the four holiday staples James Whale directed in the 1930s: Frankenstein (1931), The Old Dark House (1932), The Invisible Man (1933), and, perhaps his greatest, The Bride of Frankenstein (1935). Whale's brilliant versatility is evident in an array of other fine films including the original versions of Journey's End (1930), Waterloo Bridge (1931), Showboat (1936), and The Man In The Iron Mask (1939).
Born in Dudley, England in 1896, Whale was a lieutenant and a prisoner of war during World War I. While in the prison camp, he began acting in crude productions. He was first brought to Hollywood by Howard Hughes as a dialogue director for the film Hell's Angels (1930) and he stayed on to direct films through the 1930s and early '40s. His credits also include The Impatient Maiden (1932), The Kiss Before the Mirror (1933), By Candlelight (1933), One More River (1934), Remember Last Night? (1935), The Road Back (1937), The Great Garrick (1937), Sinners in Paradise (1938), Wives Under Suspicion (1938), Port of Seven Seas (1938), and They Dare Not Love (1941).
Openly gay, the film-maker was for many years the lover of Hollywood producer David Lewis (Camille, Dark Victory, Kings Row, Raintree County). Whale retired from film in 1942 to become a painter, and mysteriously drowned in his Pacific Palisades swimming pool in 1957.